Billie sports Rankin t-shirt in aid of Red Nose Day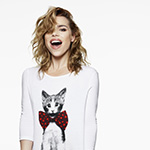 Rose Tyler actress Billie Piper has joined this year's Comic Relief campaign by sporting one of its limited edition t-shirts, available now exclusively from TK Maxx.
The range has been created by prolific British photographer Rankin and features nine different quirky animal designs.
They've been manufactured in Uganda using Fairtrade cotton and are priced between £6.99 to £9.99, £5 of which will go towards helping people who are living incredibly tough lives in the UK and across Africa.
This year's Red Nose Day will take place on Friday 24th March. Make your laugh matter!