The Mondasian Cybermen are back… but what does it all mean?
Warning! This article and its comments may contain spoilers...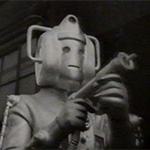 Just in case Steven Moffat's final series as showrunner wasn't sounding exciting enough already, they've just dropped the bombshell that he's bringing back the Mondasian Cybermen, too. Be still our beating Whovian hearts.
Of course, the metal monsters are no strangers to the revived series, having been familiar – *ahem* – foes since their comeback in Series 2. Thus far they've been 2.0 versions from a parallel universe (with other tweaked variations thereupon…), but this time it's out with the new and in with the old as the genuine articles are back to fight another day.
And we're pretty damned excited. But of course, the news of their comeback begs the all-important question: what the hell is going on?! They first appeared in the First Doctor's last serial The Tenth Planet, in which they attempted to take humans to their home planet of Mondas for conversion, and something tells us that this will still be high on their agenda…
But let's not forget that Missy will also be back in the finale – has she formed an allegiance with the Cybermen? It certainly wouldn't be the first time, and we bet her plan is even more devilish this time round, after her first attempt at world domination went down like a lead balloon. What's more, the last time we saw her she did say she'd had a clever idea…
So, what's it all about? There's still a while before we find out (the episodes in question are still being filmed), but we'd love to hear your initial thoughts and theories. Their return is a dream come true for Peter Capaldi, but are you as excited to be welcoming them back? We dread to think what they'll have in store, but it's the series finale – and Steven Moffat's last ever one – so it is safe to assume that it will all well and truly hit the fan. Bring it on, Moff.
Watch the BRAND NEW Series 10 trailer! You won't want to miss it for the world…