"Binaural edition" of Knock Knock for BBC iPlayer
Warning! This article and its comments may contain spoilers...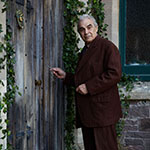 The BBC has confirmed that a "binaural edition" of an upcoming Doctor Who episode will be available on the iPlayer immediately after its TV broadcast.
The special version of Episode 4 – Knock Knock – will create "a 3D surround sound effect for anyone wearing headphones" which will place them "at the heart of the action in this nail-biting episode".
The story guest stars David Suchet as the Landlord and will air on BBC One on Saturday 6th May.
"Doctor what?" Click here to Rate and Discuss the Series 10 premiere, The Pilot »