Patrick Ness' message to the US: "Watch Class!"
Warning! This article and its comments may contain spoilers...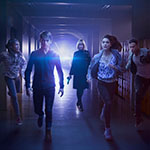 Class creator Patrick Ness has urged US viewers to watch his Young Adult drama in order to help secure its future.
The Doctor Who spin off will make its debut across the pond on BBC America tonight, immediately after its parent show's Series 10 premiere. Its showrunner has insisted that "there has been no decision made" regarding a second series, despite the fact that persistent rumours have suggested the contrary following its underwhelming response in the UK.
"America, watch it," he told Inverse. "We want to do more."
He continued: "There are still lots of stories for us to tell, especially with how it ends. I've got some evil stuff planned. I've got some evil ideas. Make sure you tell people, there's evil stuff coming, so you need to watch. We'd love for America to embrace it. Fingers crossed."