Doctor Who brand to be expanded in China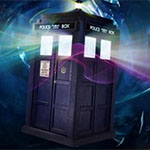 BBC Worldwide has signed a major new agreement with Shanghai Media Group Pictures (SMG Pictures) to boost the Doctor Who brand in China.
As part of the deal, the leading Chinese media company will make the show's entire revived catalogue – from Series 1 to Series 10 - available across popular TV channels and on demand. The agreement – which extends until Series 15, expected to air in 2022 – also includes a "first look" for Series 11 next year, suggesting that Chris Chibnall's first series as showrunner will air in China simultaneously with the UK.
It is hoped that the partnership will "increase the Doctor Who fan base in China" as the two teams "explore future opportunities and exchange expertise". Chinese fans will also be able to enjoy spin offs Torchwood and Class