Christmas Special title, new images revealed
Warning! This article and its comments may contain spoilers...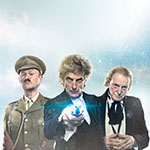 The next episode of Doctor Who, this year's Christmas Special, has been named as Twice Upon a Time.
The title was revealed during today's Doctor Who Q&A panel at San Diego Comic-Con, where it was also announced that Pearl Mackie will be returning as Bill Potts in the festive episode.
In addition to starring David Bradley as the First Doctor (as was confirmed at the end of the Series 10 finale), Mark Gatiss will guest in the seasonal adventure as a mysterious World War One soldier called the Captain.
The special will be Peter Capaldi's final story in role as the Twelfth Doctor, as well as the last episode to be written by outgoing showrunner Steven Moffat. If all of that wasn't enough, it will also mark the debut of Jodie Whittaker, who was unveiled as the new Doctor last week.
So that's two – nay, three – Doctors, the return of Bill (and somebody else, if recent tabloid reports are to be believed…), Mark Gatiss, plus what other last minute surprises Steven has got up his sleeve. Is it December yet? Discuss the latest developments in the comments!
"The original, you might say…" Read the latest on this year's Christmas Special »