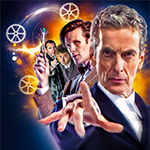 The BBC has released an epic new trailer containing highlights from Series 1 to 8 of Doctor Who.
Under the tagline 'The adventure begins', the trailer is being used to promote the show around the globe ahead of its imminent arrival in India. David Tennant's episodes also have a new home in the US, airing on Disney XD, while a special event celebrating 10 years of time and space is taking place in New York today (Thursday). Next stop, everywhere!
Take a trip through time below. It's been a blast, hasn't it?
The Doctor will return to our screens later this year. Click here for the latest news & more!