Warning! This article and its comments may contain spoilers...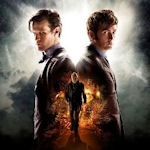 The sun has set on the Day of the Doctor but we are here to keep your memories of the 50th anniversary alive!
It has been over a week since the Doctor's dangerous past came back to haunt him in the spectacular episode which was aired simultaneously in over 90 countries.
The epic special was preceded by months of speculation and anticipation and you can now relive the buzz of the build up in our dedicated 50th anniversary archived mini-site.
On the mini-site you'll find everything you'll ever need to know about the festivities that surrounded the Doctor's historic landmark, including links to our related guides, features and discussions. Hop into the TARDIS to visit each and every Doctor, read our exclusive interviews with the show's cast and crew then see what fans around the world got up to in honour of the Time Lord's birthday. There's lots to see and do and you will find it all in one place. Because as far as we are concerned, EVERY day it's The Day of the Doctor…
"No more" waiting! Rate and discuss The Day of the Doctor with fellow fans…