Warning! This article and its comments may contain spoilers...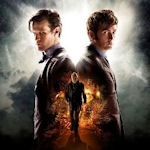 Last year's acclaimed 50th anniversary episode has been nominated for a BAFTA Television Award!
The feature-length special, The Day of the Doctor, has been shortlisted for the Radio Times Audience Award, which is the only category voted for by the general public.
That means it's time for Whovians to unite to make sure our beloved hero reigns supreme when the results are revealed at the ceremony in London on Sunday 18th May.
To support our Time Lord, click HERE now to vote before midday on Thursday 15th May.
Meanwhile, An Adventure in Space and Time is nominated for the 'Single Drama' BAFTA.
"No more" waiting! Rate and discuss The Day of the Doctor with fellow fans…
With thanks to the BBC Doctor Who Blog.