Warning! This article and its comments may contain spoilers...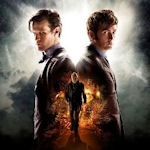 The Doctor Who Experience has recently added bonus props from the 50th anniversary special to their exhibition!
Genuine artifacts from The Day of the Doctor, such as the Zygons, costumes and an array of Time War weapons, have been on display at the attraction since November.
Now fans can get up and close and personal with even more from the historic episode, with their latest additions including items from the Black Archive and UNIT's notice boards.
Plus, the Moment, which has until now been sealed, has finally been opened to reveal its big red button. If you've got a trip to the Experience coming up, have a BRILLIANT time!
Been to the Doctor Who Experience? Share your reviews or book your tickets now!
Thanks to BBC Worldwide.