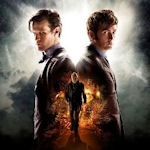 Today is the Day of the Doctor on which millions of fans are honouring half a century of our beloved Time Lord.
Today also marks 50 years of the show's fandom, of course, and we're celebrating one of its members in particular today in our special 50th anniversary edition of Fan of the Month!
Flying the flag for Whovians around the world for November is Juliana aged 19 from Brazil – check out her full Whovian profile HERE. Congratulations, Juliana!
Fan of the Month's been running since June 2008 and currently features over 60 profiles.
The 50th anniversary festivities culminate worldwide TONIGHT in The Day of the Doctor.
Share your 50th anniversary hopes and dreams in our dedicated discussion…