Warning! This article and its comments may contain spoilers...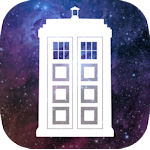 To commemorate the 50th anniversary, app developers Big Ideas Digital have released a new Doctor Who app inspired by the Say What You See format.
The fun app features 150 rebus Doctor Who puzzles across three beautifully painted canvases which take players on a journey through iconic Doctor Who locations.
Each cryptic puzzle suggests a Doctor Who related monster, companion, gadget or episode title using words or phrases.
Solving each one adds to a trivia-filled fact file including never before revealed secrets.
"There has been many Doctor Who games, but this is the first one that covers the entire span of the show's history, referencing episodes, characters and monsters from all of its 50 years," said Jon Hamblin, Director. "If this isn't the first game to appeal to old-school, hardcore fans as much as younger fans of modern Who, I will eat my Tom Baker scarf!"
Doctor Who – Say What You See is now available to download on the App Store, Google Play Store and Amazon Marketplace priced £1.99/$2.99. Check out previews of it below!
With thanks to Big Ideas Digital.