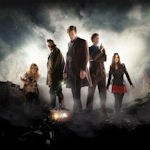 The list of nominees for this year's Hugo Awards has been released and the odds are definitely in the Doctor's favour!
Doctor Who has claimed four of the six positions in the 'Best Dramatic Presentation Short Form' category with The Day of the Doctor, The Name of the Doctor, An Adventure in Space and Time and The Five-ish Doctors Reboot all in the running against episodes of 'Game of Thrones' and 'Orphan Black'. 'The Girl Who Loved Doctor Who', meanwhile, is also up for the 'Best Graphic Story' prize.
"For Doctor Who to receive three Hugo nominations in its anniversary year is completely thrilling," showrunner Steven Moffat has commented. "We are all over the moon. I am particularly pleased about The Five(ish) Doctors Reboot, as that was my acting debut – I remain available for any parts that require a black jumper, and slightly unrealistic hair…"
The annual Hugo Awards is science-fiction's most prestigious ceremony and the winners, voted for by members of the World Science Fiction Convention, will be unveiled on 17th August 2014 at Loncon 3 in London – best of luck to the cast and crew of Doctor Who!