Warning! This article and its comments may contain spoilers...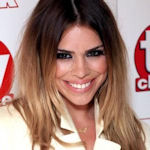 Billie Piper has revealed that stepping back into the shoes of Rose Tyler has felt "like going home".
The actress will reprise her popular role for the Doctor Who 50th anniversary in November and told Red Carpet News TV that "it's such a special one".
"This show is a real gift to me," she said. "Because it is the 50 year celebration it is all very much for the fans, and you can really feel that on this particular episode."
David Tennant is also back for the episode, which will be shown on TV and in cinemas.
Share your 50th anniversary hopes and dreams in our dedicated discussion…