Warning! This article and its comments may contain spoilers...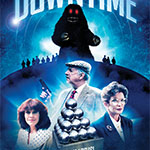 The Doctor Who spin off, Downtime, will finally be making its way to DVD later this month, it has been confirmed.
Starring Nicholas Courtney and Elisabeth Sladen as the Brigadier and Sarah Jane Smith, the unofficial sequel to the Patrick Troughton serials The Abominable Snowman (1967) and The Web of Fear (1968) follows the popular characters as they investigate New World University, a technology obsessed school run by old enemies, Victoria Waterfield and Professor Travers. Without the guidance of the Doctor, can they stop the Great Intelligence before it's too late?
Written by Marc Platt and directed by Christopher Barry and Keith Barnfather, Downtime – which was released direct to video in 1995 – will be available on DVD on 16th November, with a bonus 'making of' disc featuring never before scene exclusives in 'Behind the Lens'.
Browse the latest Doctor Who products on sale now in our merchandise section…
Thanks to Koch Media.