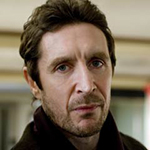 Please join us as we raise our glasses to wish Paul McGann a very happy birthday!
The actor is best known in the Doctor Who universe for playing the Eighth Doctor in the 1996 TV Movie. After a short-lived tenure on the screen, he reprised the role in the Big Finish audio adventures and made a shock return for the 50th anniversary in The Night of the Doctor.
He turns 55 today and we hope he enjoys his celebrations. Feel free to post your birthday wishes below.