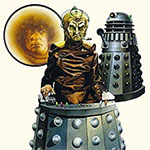 A new exhibition celebrating the Doctor Who Target Books was officially opened in London last night (Thursday).
The collection of artwork from the iconic novel range, originally published in the 1960s and 70s, features over 30 pieces and will be on display at the Cartoon Museum in Holborn until Wednesday 11th May 2016. Seven of the books have been reissued this week and the exhibition includes six of their covers, illustrated by Chris Achilleos, as well as other well-loved designs by Andrew Skilleter, Roy Knipe, Jeff Cummins and more.
Let us know if you've attended the exhibition, or intend to, in the comments section below!