Warning! This article and its comments may contain spoilers...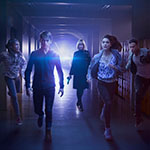 The first episode of Class will be screened alongside the Series 10 premiere when it hits cinemas across the US next month.
As previously reported, the Doctor will return to the big screen in select theatres as part of a special two-night event organised by Fathom Events on April 17th/19th. In addition to the first episode of Series 10, fans will also get to enjoy the first installment of the YA spin off, For Tonight We Might Die, as well as an all-new feature, Becoming the Companion, documenting Pearl Mackie's journey to the screen as Bill.
Tickets are now on sale so click here to find your nearest participating cinema and reserve your seat. Both Series 10 and Class will premiere on BBC America on Saturday 15th April.
Watch the BRAND NEW Series 10 trailer! You won't want to miss it for the world…