Warning! This article and its comments may contain spoilers...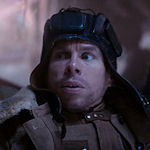 This weekend Series 7 will continue with the return of one of the Doctor's most iconic and persistent foes. It's those metal monsters we just love to hate, the Cybermen!
And if their comeback wasn't exciting enough, the episode in question is written by Neil Gaiman whose first contribution to the series was 2011's acclaimed, and Hugo Award winning no less, The Doctor's Wife – what's he got in store for the Cybermen then? Well we've been told they'll be "deadlier" than ever this time round…
"What Neil's done is write the Doctor in conflict with the Cybermen in a new way," said exec producer Caro Skinner back in March teasing: "So it's a huge episode for Matt." Its next time trail – below – definitely vouches for that! It all kicks off when the Doctor and Co journey to Hedgewick's World of Wonders. It's definitely going to be a roller coaster…
Nightmare in Silver airs on Saturday 11th May on BBC One at the later time of 7pm…
Loading ...
See the latest Series 7 headlines to discuss all the developments as and when…