Warning! This article and its comments may contain spoilers...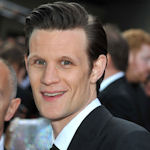 The Christmas season is now upon us and this one will be a bittersweet affair as we'll be bidding farewell to Matt Smith as the one and only Eleventh Doctor.
Rather than dwelling on the sadness of the situation, we are celebrating Matt's magnificent era in the TARDIS by sending him off in style. Back in 2009, you might remember we put together The Christmas Project to mark David Tennant's regeneration, but this time round we want to bid Matt a fond adieu in VIDEO form. We're getting with the times, you see.
And here's how YOU can get involved – we want you to send us a short video, no longer than 10 seconds, featuring your own personal farewell message to Matt. Your video can be uploaded to your own personal YouTube account or you can get it to us by including it as an attachment in an email to goodbyematt@whoviannet.co.uk. We will compile all the videos into a montage which we'll reveal here, and send to Matt, on Christmas Eve…
Our aim is to put together a heartwarming video that is as far-reaching as possible with contributions from all over the world. Help us spread the word using the #GoodbyeMatt hashtag and also get any/all of your Whovian friends and family involved too if you can!
You can send your video message in NOW and the deadline for contributions is Monday 23rd December. If you have any queries please tweet us @WhovianNet or send us an email HERE. We can't wait to see all your messages as we unite to say #GoodbyeMatt!