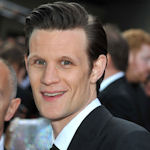 Please join us as we send out our best birthday wishes to Matt Smith, who turns 32 today!
Best known as the Eleventh Doctor, Matt handed over the TARDIS duties last Christmas in The Time of the Doctor before making a brief return in Deep Breath earlier this year. We hope he enjoys his celebrations and we'll always remember when the Doctor was him.
Feel free to post your wishes for Matt below. What are your favourite Eleventh Doctor moments?