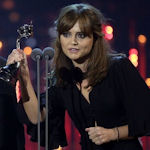 It was a big night of success for Doctor Who at the National Television Awards last night as it reigned supreme in both of the categories in which it was nominated!
The celebrations began as the show was named Best Drama with Jenna Coleman taking to the stage to pick up the award on behalf of its cast and crew. "50 years later and still going strong," the actress proclaimed. "This belongs our team who are busy grafting award in Cardiff as we speak – thank you so much to everybody who voted!"
In addition Matt Smith's portrayal of the Eleventh Doctor won him the gong for TV's Best Drama Performance. Matt – who was far too busy being an American Pyscho in the West End – recorded this message to thank fans for voting. Congratulations to Who and Matt!
Luckily for Matt his award is in safe hands until he can pick it up. Enter Rory the Roman…
Well done matt. I'm keeping your award safe. pic.twitter.com/DJkptkBqOV

— Arthur Darvill (@RattyBurvil) January 22, 2014
As Jenna mentioned, filming on Series 8, starring Peter Capaldi, is currently underway.