Warning! This article and its comments may contain spoilers...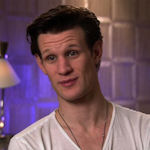 Christmas now seems like a distant memory but UK fans will have the chance to say farewell to Matt Smith all over again later today. Just in case once wasn't enough!
If you can take it, UK channel Watch will be airing 'Farewell Matt Smith', a one-off special which was originally shown on BBC America to mark The Time of the Doctor.
Narrated by Alex Kingston, the show celebrates the Eleventh Doctor in all his bow tie-wearing glory.
'Farewell Matt Smith' airs today, 18th April, at 5pm on Watch (Sky 109 / Virgin 124). You can see a clip, in which Matt discusses Whovians, at Radio Times. Will you be tuning in?