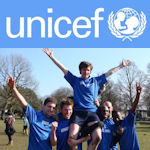 Matt Smith has been confirmed as one of the players of this year's Soccer Aid match!
The Eleventh Doctor star will represent England in the team, which is being captained by Robbie Williams, alongside other familiar faces including Olly Murs and John Bishop.
This great charity event is organised by UNICEF, the world's leading organisation which aims to advocate children's rights to make a lasting difference to young people everywhere.
The match will take place at Old Trafford on Sunday 8th June. Tickets are on sale HERE.
With thanks to UNICEF.