Warning! This article and its comments may contain spoilers...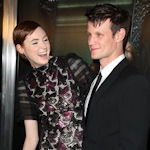 Karen Gillan has admitted that it was "a surreal experience" to film her cameo in Matt Smith's final Doctor Who episode.
The actress briefly returned to her role as Amy Pond in 'The Time of the Doctor' last Christmas for the Eleventh Doctor's emotional regeneration scene. She has told Entertainment Weekly recently that "it was so weird" to go back. "I spent three very important years of my life on that TV show," she said. "So to go back and be on someone else's TARDIS was just a really weird sensation."
She explained "It was like being on the outside looking in but also knowing that life is OK after you leave Doctor Who. So it was an interesting experience plus it was important to me that I was there for Matt's final moments – me and Jenna were hugging and crying!"
Karen's latest film, Oculus, is now in cinemas in the US – watch its official trailer HERE.