Warning! This article and its comments may contain spoilers...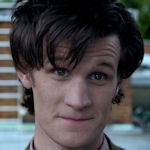 Continuing our #TopTenOfEleven countdown is another epic moment from his opening adventure!
By the time the closing scenes of The Eleventh Hour arrived, Matt Smith had already established himself as a Time Lord to be reckoned with as he took to the rooftops of Leadworth Hospital for a final showdown with the alien Atraxi.
Here he proved a new (and arguably baby) face didn't mean new rules as he told the Atraxi to, well, "basically… run!".
And that they did, my friends. That they did. See the great moment in the player below…
Follow the latest #TopTenOfEleven developments here and on our Twitter @WhovianNet.