Warning! This article and its comments may contain spoilers...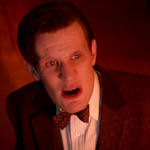 It was a close call but the moment has arrived. You've been voting for the 11th Doctor's greatest moment, and here it is!
The Eleventh Doctor's had his fair share of epic speeches in his time but there's one in particular that has made a lasting impression on the Whoniverse…
He was laid bare in The Rings of Akhaten earlier this year as viewers were given an insight into the lives and times of a Time Lord.
With 21% of the vote, you've selected the scene as the defining moment of the Eleventh Doctor's era. Relive the uplifting occasion below and let us all join hands and sing along!
The Eleventh Doctor will regenerate TONIGHT in The Time of the Doctor on BBC One.