Warning! This article and its comments may contain spoilers...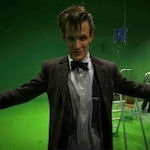 The BBC has released a new behind the scenes featurette to accompany The Time of the Doctor, but get those tissues at the ready because it's about to get emotional…
The video takes fans 'Behind the Lens' to give an insight into how the festive episode made it from script to screen.
Featuring interviews with the almighty Matt Smith and Jenna Coleman plus Steven Moffat, it also includes comments from Orla Brady and Jack Hollington who guest star in the special.
Check out what happened Behind the Lens in the player below. Goodbye, Mr Matt Smith!
And that's not all! BBC America have released a deleted scene which you can see below.
Click HERE to review the Eleventh Doctor's final adventure in our discussion…