To build up to the Eleventh Doctor's regeneration, we asked you to vote for his all time greatest moment.
On Christmas Day we revealed the winner as THIS moment from The Rings of Akhaten so we recently caught up with the man behind it, writer Neil Cross, to find out more about his inspirations behind the now iconic speech.
It's made a lasting impression on the fans and discover how the scene made it to the screen below!
Big thank you to Neil for his time. Keep up to date with him on his official website, here.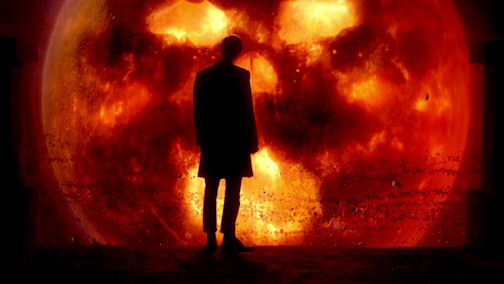 ---
"I have seen things you wouldn't believe. I have lost things you will never understand. And I know things. Secrets that must never be told, knowledge that must never be spoken, knowledge that will make parasite gods blaze!"
- The Eleventh Doctor in The Rings of Akhaten
---
The Doctor said it best, as he usually does: "We all change. When you think about it, we're all different people all through our lives. And that's okay, that's good – as long as you keep moving, as long as you remember all the people that you used to be."

What helps me remember all the people I used to be is Doctor Who. My love for the Doctor allows the child I was and the man I've become, and all the people in between – the punks and the goths, the would-be writers, the bridegrooms, the young fathers – to see the universe through the same eyes, to find terror and wonder in equal measure.

I think of watching the Third Doctor on my nan's black and white TV, curled up on her fake fur coat. I think of stumbling round the ugly concrete local shops in Stockwood, South Bristol, chanting "I AM A DALEK". I think of lying in the darkness as a teenager, tormented by my own imagination: half-hoping, half-terrified that I'd hear the grinding of the TARDIS as it materialised on the pavement outside. I think of watching with my wife and sons as the Tenth Doctor told us he didn't want to go… and how we wept, because we didn't want him to go either.

Really, that's where the final speech in The Rings of Akhaten comes from. It was my love letter to him, to all those moments.

I'm touched and flattered and really quite unbelievably proud that this speech has been chosen by visitors to WhovianNet as their favourite of the Eleventh Doctor's tenure. But, proud as I am, it's not really a compliment to me: it's a compliment to the Doctor, as incarnated by the astounding Matt Smith.

So thank you, visitors to WhovianNet. And thank you, Doctor.

And thank you, Matt. None of us will forget when the Doctor was you.
Click HERE to review the Eleventh Doctor's final adventure in our discussion…