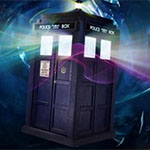 Just a quick site notice to say a huge THANK YOU to all of our visitors on this, our 10th birthday!
WhovianNet.co.uk opened its doors (well, it's e-doors…) on 9th October 2007 and we're still here 10 years later bringing you all the latest news and shenanigans surrounding our favourite Time Lord. Time flies when you're having fun!
The show has certainly changed over the last decade but one vital factor has remained the same – our weird and wonderful fandom family really is the best place to be.
So, thanks to everyone who continues to visit, comment and tweet us. We never thought WhovianNet,co.uk would become what it has, but we wouldn't have missed it for the world.