Read our review of the new Series 5 soundtrack!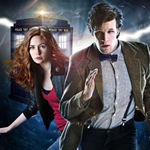 As you'll all probably know by now, next Monday (8th November) will see the release of the long-awaited Series 5 Official Soundtrack!
Thanks to Silva Screen Records, we were given a copy of the 2-disc set to review, and you can find out what we thought of the tracks by clicking here!
You can find out everything else you need to know about the CD here.