Win an official 2011 Doctor Who Danilo Calendar!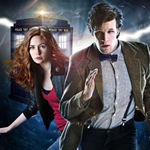 Thanks to Danilo, we're thrilled to announce that we've got THREE official 2011 Doctor Who Calendars (RRP £7.99) to giveaway!
With the end of 2010 just around the corner, you're probably looking for the perfect way to mark off all of your important dates next year – and here's your answer! To be in the running, all you have to do is help us get to 1000 Twitter followers. As soon as we get there, we'll be picking three followers at random, who will each recieve a prize!
So, if you're not doing so already, make sure you head over to our Twitter (@wnfeed) now and follow us for the latest updates, and spread the word to help us reach our target! If you were following us before this competition, you're still in with a chance!