Read our review of Death Riders and Heart of Stone!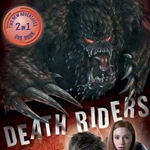 Back in December we brought you details of the exciting new range of 2-in-1 Doctor Who novels that will be launching next month.
Ahead of its release, Penguin Books have very kindly sent us a copy of the first book in the series, which features the action–packed stories Death Riders by Justin Richards, and Heart of Stone by Trevor Baxendale. You can read our review of the adventures by clicking here - the book comes highly recommended from us!