BARB release final ratings for Day of the Moon
Warning! This article and its comments may contain spoilers...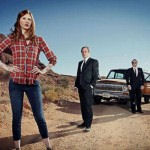 BARB have released the final ratings for Series 6 Episode 2, Day of the Moon.
The conclusion to the US based two-parter was watched by an official audience of 7.30million, which is a 36.7% share of the total television audience. When you put that next to The Impossible Astronaut's fnal figure of 8.86million, we can see that the new series is doing well, despite the ongoing talk that the 6pm timeslots are having a negative impact on its viewership. Congratulations to the cast and crew!