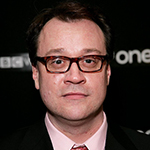 Russell T Davies is this month's guest on Attitude magazine's Heroes podcast.
The landmark series is celebrating the 50th anniversary of the partial decriminalisation of homosexuality in England and Wales and the former Doctor Who showrunner chats to editor-in-chief Matt Cain about the representation of gay men on TV.
As well as helming the 21st century revival of Doctor Who, Russell also achieved critical acclaim for his 1999 series Queer as Folk, followed by the more recent Cucumber in 2015.
You can listen to the full interview – which includes such stories as Russell's accidental drug overdose - here. Please be advised that the podcast contains adult language and themes.
Thanks to Bradley for the news!