Warning! This article and its comments may contain spoilers...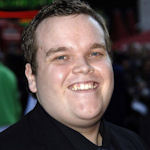 On the eve of Nightmare in Silver, we are thrilled to bring you an exclusive interview with one of its guest stars, Calvin Dean!
Calvin appears as Ha-Ha in the adventure: a soldier who, he tells us, is "known for being slightly strange". "He is a funny guy," he added. "Not in the laughing kind of way but he likes to think he is the action man of the group, but he is not! He has some great moments though, and he should be made a General immediately!"
You can read our full interview with him below in which he gives some behind the scenes insights, episode teasers and reveals what it was like to go up against those Cybermen…
Q. Hi, Calvin. Firstly, how did your role in Nightmare in Silver come about?
A. I was cast in the normal way by going for a meeting with the casting director Andy Pryor and director Stephen Woolfenden. Luckily for me, Andy had cast me in 2 TV jobs before, so it helped that he knew my work. I was seen a couple of months earlier for 'The Bells of Saint John' for Man With Chips, but I didn't get it. My chip eating wasn't convincing enough!

Q. Were you a Doctor Who fan before you were cast?
A. I could tell a big lie and say I was the biggest Whovian ever, but if the truth be told, no. As I was a child of the 90's there wasn't a big Who presence apart from re-runs, but I loved the Daleks and Cybermen. When Matt started in 2010 I tuned in as I've known him for over 10 years from our days in the National Youth Theatre. When I got the role of Ha-Ha I watched the whole of Series 6 and now I'm hooked!

Q. Without giving too much away, what can you tell us about the episode?
A. It's very Neil Gaiman, but that's pretty much to be expected. Lots of wacky characters and locations. I'm playing a solider who's in the army platoon alongside Captain Alice (Tamzin Outhwaite), Brains (Will Merrick), Beauty (Eloise Joseph) and Missy (Zahra Ahmadi). Originally there was also Brawn, but he got cut! I can't say too much, but there are lots of guns and cool things which I broke on a daily basis. Sorry art department!

Q. What was it like to go up against the Cybermen, one of Doctor Who's most iconic foes?
A. I was a big kid on my first day with the Cybermen. They don't only look amazing, but they're pretty scary. I often forgot that real people were inside, and standing in the lunch queue next to a Cyberman is pretty disconcerting. "Yes, you can go in front of me, but don't Steal my lasagne!".

Q. How long after you won the part did filming begin, and how long were you filming for?
A. Filming began about 2 weeks after first hearing the news. The day I found I had the part was the day of the read-through. My agent didn't even say I had the part before asking if I could be in Cardiff by 7pm that night. One minute I was watching This Morning (as all out of work actors do) and the next I was sitting next to Matt Smith and Neil Gaiman. Bizarre day! Principal photography was really fast. We had 13 days to shoot the whole episode. We had a few extra days at the end because of weather problems. One week I went home for a weekend, came back to Cardiff on the Monday, went to set, got into costume, had a bacon butty, and then went home again because of bad weather. Not a bad days work!

Q. What were your highlights of working with Matt Smith, Jenna-Louise Coleman and the episode's guest cast?
A. We had a blast. Working with Matt again after so many years was a big treat. He's such a lovely guy and really welcoming. You never feel like the outsider on Doctor Who as a guest (unlike other jobs). Jenna-Louise is a great asset to Doctor Who and she kicks some ass in Nightmare In Silver! Us army platoon lot got on really well (and still do). We had a good laugh, even when it was 6am and all you wanted was your bed. Warwick Davis. That's all I can say. WARWICK DAVIS!

Q. This isn't your first experience of the Doctor Who universe as you've also been transformed into a Slitheen for The Sarah Jane Adventures…
A. My Sarah Jane Adventures experience was pretty quick. I think I only had one day on set and another day in the studio recording the voice. I was very lucky to work with the brilliant Elisabeth Sladen. It's very sad that Liz is no longer with us as she was a great stalwart of Doctor Who. I also met K-9 which was so cool!

Q. What advice would you give to any aspiring actors out there?
A. Don't do it! No, if you really want to do it and want to work hard then go for it. Too many people think that it brings fame and fortune, but it doesn't. You have to work so hard and being famous isn't a career in my mind. I love what I do, and if that spark ever goes I would give it up. Nothing worse than a grumpy actor. I've met a few!

Q. Finally, do you have any upcoming projects you'd like to tell us about?
A. No. Any offers? Please? I'm currently trying to get myself to America. I've got representation in LA, so hopefully that will work out. Maybe Ha-Ha in his own spin off with Brains as my sidekick? I wouldn't say no to that.
Big thanks to Calvin for his time! Nightmare in Silver airs tomorrow at 7pm on BBC One.
See the latest Series 7 headlines to discuss all the developments as and when…