Series 10 DVD, Blu-ray details announced
Warning! This article and its comments may contain spoilers...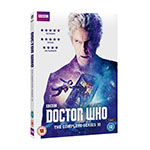 The BBC have released the full details – including cover artwork – for the upcoming release of the Complete Series 10 on DVD and Blu-ray.
The 6-disc set will be released on both formats on 13th November 2017, as well as a limited edition steelbook edition featuring exclusive artwork. Compiling all 12 episodes from Peter Capaldi's third and final string of adventures as the Twelfth Doctor, as well as last year's Christmas Special, The Return of Doctor Mysterio, the boxset will also boast an array of bonus content, the full list of which can be seen below.
BECOMING THE COMPANION
Travel with new companion Pearl Mackie from the London stage through the doors of the TARDIS to a once-in-a-lifetime role, or as Pearl says, "the most insane thing that's ever happened to me". Featuring exclusive interviews with Pearl, Peter Capaldi, and Steven Moffat. Narrated by Ingrid Oliver.

OUT OF THIS WORLD
As Pearl Mackie steps aboard the TARDIS for her first adventure as Bill Potts, Ingrid Oliver (Osgood in Series 8 and 9) looks back at the debuts of the Doctor's recent companions. What can we learn from their first voyages on the TARDIS, coming face to face with their first monster, and their first encounters with the mysterious stranger called the Doctor?


WHO'S THERE?
We creep silently through Knock Knock as writer Mike Bartlett and Director Bill Anderson reveal the secrets of how to make a truly scary episode of Doctor Who. And find out why they couldn't have chosen a more terrifying location… Featuring interviews with David Suchet, Peter Capaldi and Pearl Mackie. Narrated by Ingrid Oliver.

RONA MUNRO – A MODERN CLASSIC
No writer has ever penned an episode of both classic Doctor Who and the new series – until now! Rona Munro, writer of the 1989's Survival, explores the similarities between her classic and modern episodes. And Peter, Pearl and Steven turn their eagle eyes on an ancient mystery! Narrated by Ingrid Oliver.

THE FAN SHOW AFTER SHOWS
Join Christel Dee and a host of Doctor Who actors, writers and creatives to discuss the making of Series 10, and most importantly, assess the intensity of TARDIS crew's hairstyles along the way, in this original companion show.

THE FINALE COUNTDOWN
Interview with Pearl Mackie and unseen film footage from the Concert.
KNOCK KNOCK' BINAURAL SOUND
The Binaural Sound edition of episode 4, 'Knock, Knock'. Binaural Sound gives an immersive spatial sound experience for headphone listeners.

DOCTOR WHO EXTRA: THE RETURN OF DOCTOR MYSTERIO
Behind-the-scenes of the Series 9 Christmas Special.

THE DOCTOR: A NEW KIND OF HERO
A short documentary that accompanied The Return of Doctor Mysterio, which looks at the character of the Doctor and how he's a unique hero.

THE FINALE FALLS
Behind-the-scenes of the Series 10 finale.

INSIDE LOOKS

DELETED SCENES

AUDIO COMMENTARIES
Browse the latest Doctor Who products on sale now in our merchandise section…