OFFICIAL: Jodie Whittaker announced as the Thirteenth Doctor
Warning! This article and its comments may contain spoilers...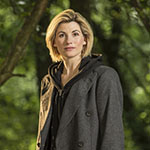 After months of speculation, Jodie Whittaker has been announced as the Thirteenth Doctor in Doctor Who.
As the first female to officially (sorry, Joanna Lumley!) portray the iconic role, the actress will make her debut as the Time Lord in this year's Christmas Special.
She said: "I'm beyond excited to begin this epic journey with every Whovian on the planet. It's more than an honour which means remembering everyone I used to be, while stepping forward to embrace everything the Doctor stands for: hope."
Her era will be overseen by incoming showrunner Chris Chibnall, who she has previously worked with on his ITV drama Broadchurch. Chris has described Jodie as his "number one choice", adding: "I always knew I wanted the next Doctor to be a woman. Jodie's audition blew us all away. Jodie is an in-demand, funny, inspiring, super-smart force of nature and she will bring wit, strength and warmth to the role. The Thirteenth Doctor is on her way."
Loading ...
Peter Capaldi, who will be handing over the TARDIS keys to Jodie in the festive adventure, commented: "Anyone who's seen Jodie Whittaker's work will know that she's a wonderful actress of great individuality. Above all, she has the huge heart to play this special part."
What a day! Discuss your reactions to the historic news in the comments below…