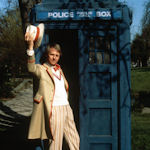 Forget about may the fourth, May's all about the Fifth Doctor as our countdown to the 50th anniversary continues!
Tom Baker transformed into Peter Davison (not really, but you know what we mean) in Logopolis in March 1981 but it wasn't until the following January that his adventures really began. In Castrovalva we met the fresh-faced Doctor in all his cricketing, celery wearing glory. It was business as usual as he tried to avoid destruction within Event One and it was the beginning of a shining new era for the series.
After a particularly problematic regeneration, over his tenure the Fifth Doctor appeared to have a new vulnerable side not present in his predecessors. While the Doctors before him were authoritative in the face of impending doom, this Doctor was more reserved as he often left it to fate to determine the outcome with the flip of a coin. You can't blame him for his sensitive side – he met some hostile foes such as the Master and the Daleks!
Although Peter's time in the TARDIS was relatively short Doctor Who has remained a big part of his career, as well as his personal life – his real life daughter Georgia Moffett was The Doctor's Daughter back in 2008. In 2012, she married Tenth Doctor actor David Tennant too! Talk about keeping it in the family, and we wouldn't want it any other way…
Click HERE to be transported to all of our Fifth Doctor festivities and features!
Share your 50th anniversary hopes and dreams in our dedicated discussion…