Warning! This article and its comments may contain spoilers...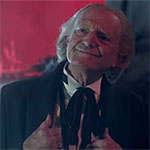 This year's Doctor Who Christmas Special will be shown in cinemas across the US as part of a special one-off event.
The episode, Twice Upon a Time, will mark Peter Capaldi's final adventure as the Twelfth Doctor and will receive its big screen outing in select theatres nationwide – after its televisual premiere on BBC America – on Wednesday 27th December 2017, followed by two bonus featurettes.
Tickets will go on general sale, here, on 20th October 2017.
One man, one destiny… twice. Watch the Twice Upon a Time Comic-Con trailer »