Warning! This article and its comments may contain spoilers...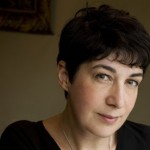 This week has seen the release of The Loneliness of the Long-Distance Time Traveller, a new and original e-book by bestselling author Joanne Harris.
In the short story, which forms part of the ongoing Time Trips series, the Third Doctor finds himself in an isolated time paradox which is being ruled by an unknown psychic force.
We recently caught up with Joanne who gave us an exclusive insight into the creation of her very own Doctor Who adventure.
Q. Hi there, Joanne! So, how did your involvement with the Time Trips range come about, and were you already a fan of the series?
A. I was already a Doctor Who fan and I was approached by the BBC to write for the Time Trips series. It was at the same time a terrific challenge and a childhood dream come true…

Q. In your story, the Third Doctor finds himself in an isolated time paradox ruled by an unknown psychic force. Without giving too much away, what was the inspiration behind this?
A. I've been fascinated by the idea of psychic control since I first read Jerome Bixby as a young child. Rather than write about alien intelligence in this story, I wanted to look at the power and potential of the human mind and its subconscious imagery.

Q. And how did you approach the story at the beginning of the writing process, in terms of your research into the life and times of the Third Doctor?
A. I took the opportunity to re-watch a number of Third Doctor adventures. I had a pretty good idea of when I wanted to set my story, but I needed to be sure it would fit. Thought processes, memories, artefacts, references to previous adventures, clothing… I needed to be certain of all those things before climbing inside the Doctor's mind.

Q. Of course, the Third Doctor was well known for being suave yet authoritative. How easy was it to convey his personal and mannerisms on page?
A. Surprisingly easy, actually. The Third Doctor was "my" Doctor as a child, and I found I remembered him in quite vivid detail. To me, he's the eccentric uncle who taught me Venusian karate, gave me my taste for velvet jackets and made me want to visit the stars. I'm still very fond of him so I'm glad to have had the chance to bring him back to life in this way.

Q. If you hadn't written for the Third Doctor, which other classic incarnation would you have liked to have revisited and why?
A. I'm very fond of the Fourth Doctor, although when he first took over from Jon Pertwee, I was more than a little hostile. Then I was drawn in by Tom Baker's personality, which was so different to the Doctor's previous incarnation. I'd like to write him a story too, just to redress the balance…

Q. What did you set out to achieve with your story?
A. My intention was to write something that would at the same time fit with the Doctor Who of the Pertwee years – the Seventies episodes had a unique vibe, which I wanted to try and recapture – and explore some part of the Doctor that had never been explored. In this case, it's his changing attitude to mortality – his own, and that of others – and it makes for a quite contemplative story and quite a wistful, nostalgic mood.

Q. Finally have you got any upcoming projects you can tell us a little about?
A. I'm working on a book of new fairytales, to be illustrated by Charles Vess. As to the rest, just watch this space!
A huge thanks to Joanne for answering our questions. Don't forget to download your copy of The Loneliness of the Long-Distance Time Traveller which is out now priced £1.99.