Warning! This article and its comments may contain spoilers...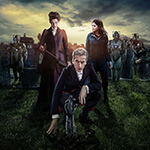 All good things must come to an end and, in true Doctor Who fashion, the latest series reached its dramatic climax last weekend in a momemtous two-part extravaganza which sent the Whovian community into overdrive.
Before the Doctor and Clara faced an impossible choice at the hands of evil mastermind Missy (see what we did there?), they found themselves In the Forest of the Night as acclaimed writer Frank Cottrell Boyce made his Doctor Who debut in an adventure which marked the final days of humanity. Or so we thought, anyway!
Next up, as the finale began, the Doctor and Clara found themselves in Dark Water when plans were drawn up in the Nethersphere. Clara faced heartbreak and the Doctor finally came face to face with Missy as a catastrophic cliffhanger sent mighty shockwaves through the stratosphere. With Cybermen on the streets of London, the drama was notched up to a whole new level and old friends united against old enemies as our heroes faced Death in Heaven. As the Twelfth Doctor battled his greatest challenge, sacrifices had to be made…
"Say something nice" (or not) about the Series 8 finale in our episode discussion!