Peter Davison quits Twitter amidst female Doctor debate
Warning! This article and its comments may contain spoilers...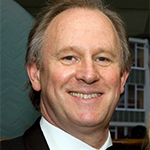 Peter Davison has quit Twitter as a result of the backlash he received following comments he made regarding the casting of the first female Doctor.
During a recent interview at San Diego Comic-Con, the Fifth Doctor actor affirmed that landing the ionic role is a "fantastic opportunity" for Jodie Whittaker as he urged fans to encourage those who are doubtful to "watch it with an open mind". However, he also admitted to feeling "a bit sad" that the series has potentially now lost its central role model for boys, who he believes the show is "vitally important for".
He explained: "I quite like the idea of the Doctor as a boy, but maybe that's because I'm an old-fashioned dinosaur. It's irrelevant now. We have a new Doctor so let's give her our full support."
An inevitable backlash ensued, with Peter subsequently deleting his Twitter profile due to the "toxicity" of the evolving debate. "The used to be fun," he wrote in his final post. "Now it's not. Must dash."