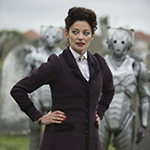 Michelle Gomez has been nominated for a BAFTA TV award for her praised portrayal of Missy in Doctor Who.
The actress was introduced as the first ever incarnation of the Master in Series 8 before returning with a vengeance in last year's Series 9 premiere, The Magician's Apprentice and The Witch's Familiar. Her performance as the renegade Time Lady has been recognised by BAFTA in this year's Supporting Actress category, in which she faces competition from Eleanor Worthington-Cox (The Enfield Haunting), Chanel Cresswell (This is England '90) and Lesley Manville (River).
We'd like to wish Michelle the best of luck! The results will be revealed when the ceremony is broadcast live from the Royal Albert Hall on Saturday 8th May 2016 on BBC One. It's recently been teased by Steven Moffat that Missy will be back for more fun in Series 10.