New Doctor Who PC, mobile game to launch in 2018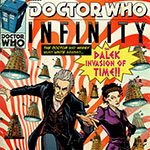 Tiny Rebel Games – the company behind the popular Doctor Who Legacy game – have announced a new release which they'll be launching next year.
Building on Legacy's puzzle gameplay format, Doctor Who Infinity will include five original illustrated stories, the first of which, The Dalek Invasion of Time, has been written by George Mann and illustrated by Mike Collins and will see the Twelfth Doctor and Missy come face to face with the Daleks. The game will be released on PC and major mobile formats in Spring 2018.