Remember when… the Fourth Doctor bid adieu?
Warning! This article and its comments may contain spoilers...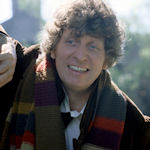 It's just another manic Monday – and the Doctor's given us his keys to the TARDIS for our weekly visit to the past!
For our latest Remember when…, we're journeying back to 1981. A new decade had only just begun, but this year holds significance for Doctor Who fans because it marked the end of an epic era – on 21st March, another one bit the dust! As the Doctor's fourth incarnation fell to his death from the top off a telescope dish, Tom Baker's record-breaking tenure in the TARDIS reached its climax.
As always in Doctor Who, though, the ending was just the beginning, and in came Peter Davison as No. 5, in all his celery and cricket loving glory! But that's for another week…
Were you around to see the Fourth Doctor's final breath? Share your memories below…