Series 9 filming update
Warning! This article and its comments may contain spoilers...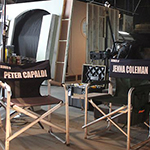 Filming on Series 9 began in Cardiff earlier this month and the BBC has released some new details to coincide with the start of principal photography.
The first episodes being filmed comprise of a two-parter – "one of the scariest adventures yet" – which has been written by Toby Whithouse, directed by Daniel O'Hara and produced by Derek Ritchie. The two-parter guest stars Morven Christie, Arsher Ali, Colin McFarlane, Sophie Stone, Zaqi Ismail, Steven Robertson, Neil Fingleton and the previously confirmed Paul Kaye.
Series 9 will premiere on BBC One this autumn. Discuss these latest developments below…
The Doctor returns in The Magician's Apprentice… Click HERE for the latest news!