S9: Kate Stewart back for Episodes 7 & 8
Warning! This article and its comments may contain spoilers...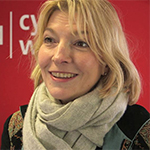 The BBC has confirmed that Kate Stewart will be returning to Doctor Who for Episodes 7 and 8 of Series 9.
Jemma Redgrave will once again be reprising her role as the Brigadiers' daughter, and UNIT's Chief Scientific Officer, who was first introduced in The Power of Three before appearing in The Day of the Doctor and last year's Series 8 finale. She'll also be guest starring in the two-part opener The Magician's Apprentice and The Witch's Familiar.
The actress said she is both "happy and thrilled" to be back.
Kate Stewart will also be helming her own Big Finish spin off, set to launch later this year.
Filming for Series 9 is currently underway. It's scheduled to air on BBC One in the autumn.