Steven teases Maisie's "significant role"
Warning! This article and its comments may contain spoilers...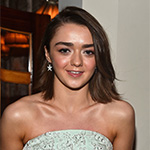 Steven Moffat has dropped some intriguing hints about Maisie Williams' "significant role" in Series 9 – by revealing nothing about who she'll be playing. Classic, Moff!
Speaking at the Television Critics Association's press tour, the showrunner remained tightlipped about the Game of Thrones star's involvement in the upcoming series, revealing only that it's "a clever idea" and one we won't see coming. "It's a great part and she's terrific in it," he affirmed. "All I will say is that she's not playing a returning character. She is someone brand new and not a character from the Doctor's past."
So, there goes our generic River Song theory! Who do YOU think she'll be playing? Discuss!
Got something to say about Series 9? Get it off your chest in our new discussion…