The Magician's Apprentice, trailer & synopsis!
Warning! This article and its comments may contain spoilers...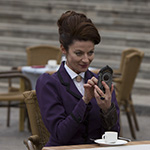 With exactly two weeks to go until the Doctor finally returns to our screens for a brand new series, the BBC have today (Saturday) released a tantalising trailer for its opening episode, The Magician's Apprentice.
In addition, the official synopsis has been revealed to give us some fresh teasers about what lies in store in this year's series premiere, the first part of a double-whammy of drama which will mark the return of Michelle Gomez as Missy. Check out the latest previews below and "say something nice" in the comments. It all kicks off on 19th September. No biggie!
Where is the Doctor? When the skies of Earth are frozen by a mysterious alien force, Clara needs her friend. But where is the Doctor, and what is he hiding from?

As past deeds come back to haunt him, old enemies will come face-to-face, and for the Doctor and Clara survival seems impossible.
Got something to say about Series 9? Get it off your chest in our new discussion…