Clara's final farewell – share your predictions!
Warning! This article and its comments may contain spoilers...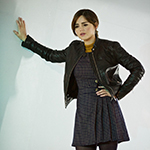 Series 9 is now well underway and it's safe to say that so far it has given us some of the Doctor's most ambitious, and not to mention exciting, adventures to date.
It hasn't all been fun, games and sonic sunglasses, however, as there's a foreboding shadow hanging over the proceedings. It's been confirmed that, after three spectacular years in the TARDIS and more false farewells than you can shake a stick at, everybody's favourite impossible girl is on her way out (for real, this time!) which means that time is running out for our soufflé superstar. It's been a blast!
Unusually, however, it hasn't been revealed exactly when she'll be bidding her last adieu to her life aboard the TARDIS. We've only been told that it will happen at some point during the latest series, which basically means that it could happen at any point so we should go into each episode expecting the unexpected. As of The Girl Who Died, she's still alive and kicking to fight another day, but when will her luck run out? While we await – and dread – the inevitable, let us know your predictions about how Clara Oswald will leave Doctor Who by sharing your thoughts and theories below. Brace yourself, it's gonna be "emotional"…
Loading ...
Keep up to date with WhovianNet's latest Series 9 news, previews & discussions!