Who is Ashildr? Your last minute theories!
Warning! This article and its comments may contain spoilers...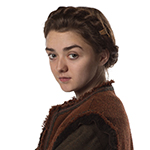 One of the biggest mysteries surrounding Series 9 will finally be resolved later this evening as Maisie Williams prepares to leave her mark on the Doctor Who universe.
The Game of Thrones actress will guest star in tonight's episode, The Girl Who Died, as a mysterious Viking girl called Ashildr. It all sounds simple enough, but since her casting was announced back in March, we've repeatedly been told that she's actually a particularly "significant" figure – "cosmic", in fact – "who will challenge the Doctor in unexpected ways". Whatever that means!
Hell, it's even been foretold that she could be "good or bad", so it's safe to say that the heightened ambiguity of the situation has sent our fevered minds into a speculative frenzy. All of our questions will finally be answered tonight but you can while away the remaining hours by leaving your last minute theories in the comments section below. Who is Ashildr?
Loading ...
The Girl Who Died will air TONIGHT at 8:25pm on BBC One. Click here to watch the trailer!