3D Doctor Who cover for SFX #194!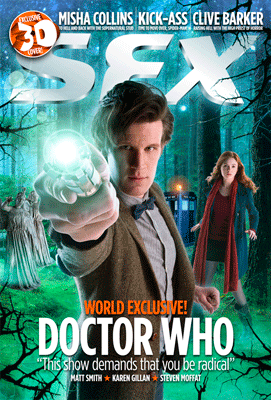 As various promotions for Series 5 begin to surface, it has been revealed that the cover of the next issue of SFX Magazine will boast a fantastic 3D holographic image of the Eleventh Doctor, Amy Pond and a Weeping Angel to celebrate the long-awaited return of Doctor Who to our screens this Easter!
A photoshoot for the artwork, which was put together with full cooperation from the BBC production team, took place in Cardiff last month.
Inside the magazine there'll also be a 9-page preview of the series, including mever before seen on-set pictures as well as new and exclusive interviews with Matt Smith, Karen Gillan and Series 5 showrunner Steven Moffat!
"Sci-fi fans are very excited about the new series introducing the Eleventh Doctor, and we had to mark the occasion," Editor in Chief of SFX, Dave Bradley, told Future. "This 3D cover is the perfect celebration for a British series which continues to thrill audiences 47 years after its debut."
He added: "The cover strikingly matches the tone of the new series, and if you look carefully you can see your first glimpse of the returning villains, the Weeping Angels. The BBC were incredibly helpful and we had exclusive photography time with the two stars, plus inside the mag we reveal what happened when we went on set, including big interviews with Matt, Karen and Steven Moffat."
SFX # 194 will be available to buy in shops from March 10th 2010 at the usual price of £3.99.
» Never miss a story! See all the Series 5 news reported on WhovianNet!