BBC confirms Series 6 to be split into two halves
Warning! This article and its comments may contain spoilers...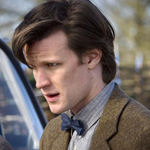 The BBC Press Office has today announced that the sixth series of Doctor Who will be split into two halves to accommodate a 'big plot twist' halfway through the series.
Confirming reports from yesterday, Matt Smith's second series will begin over the traditional Easter 2011 period, and will run until Episode 7, when 'one of the most exciting Doctor Who cliffhangers' of all time will keep viewers 'on the edge of their seats' until the series resumes with the remaining 6 episodes later in the Autumn.
Steven Moffat said: "The split series is exciting because viewers will be treated to two premieres, two finales and more event episodes. For the kids it will never be more than a few months to the next Doctor Who! Easter, Autumn, Christmas."
Meanwhile, over at The Guardian website there's a video of the showrunner's initial announcement at the Edinburgh TV Festival this morning, in which he explains: "Doctor Who will come back for 7 episodes at Easter, building up to an Earth-shattering climax in Episode 7. There will be a huge game-changing cliffhanger, one we could never do normally at the end of a series. It will change everything for the Doctor, Amy and Rory."
He continued: "In order to give you time to recover, we'll let you go off, have your summer holidays, then come back in the Autumn for another 6 episodes in what will be Series 7, I suppose. We're not just splitting it, we're making two separate series."
What do you think of the news? As always, let us know your thoughts about it below!