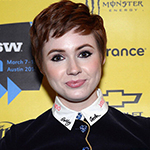 Karen Gillan's Doctor Who days might be over but she's still as busy as she ever was in the TARDIS.
The actress, who played the Doctor's companion Amy Pond, has been making various public appearances in the US recently to promote her new sitcom Selfie, which premiered on 30th September.
Amongst her interviews and press junkets, she was a guest on the late-night talk show Jimmy Kimmel Live! and you can see a snippet of it in the player below.
In Selfie, Karen stars as Eliza Dooley, a social media obsessed 20-something whose online image is tarnished when a video of her humiliating breakup goes viral. It airs in the US on ABC on Tuesdays at 8/7c. It's unknown when/if it will be picked up by a channel in the UK.