Warning! This article and its comments may contain spoilers...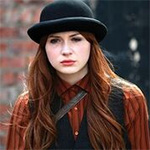 Karen Gillan's feature film debut Not Another Happy Ending is now available to purchase on We Are Colony alongside a host of exclusive extras.
Originally released in 2013, the indie romcom stars the Amy Pond actress as Jane Lockhart, a talented writer who becomes too happy to complete her latest novel. When her publisher embarks on an ill-fated campaign to save her from her bout of writer's block, their relationship is destined to become much more than professional. It was written by David Solomons and directed by John McKay.
The movie is now available to purchase for £3.99 in a special bundle which also includes an array of interviews, deleted scenes, a making of documentary and more. You can check out an exclusive BTS clip in which Karen attempts to get to grips with a plant pot, below. Duck!
In addition, We are Colony are hosting two great competitions including the chance to win a limited edition press book of the film signed by Karen Gillan and a necklace, handmade in Scotland by designed Bonnie Bling. Click here to find out how to enter, and enjoy the film!