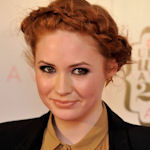 Please join us as we raise our glasses to send Karen Gillan a bigger on the inside birthday cheer!
The actress, who played the Doctor's companion Amy Pond, turns 26 today and we hope she enjoys her celebrations.
Since leaving Doctor Who, Karen has made her movie debut in Not Another Happy Ending and next year she'll return to the big screen for Guardians of the Galaxy as Nebula, for which she shaved her head.
Post your birthday wishes for Karen below and don't forget to tweet her @KarenGillan2!