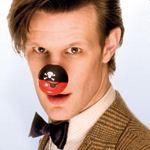 Red Nose Day is back this month and so is their auction, which is offering a once in a lifetime opportunity for Doctor Who fans.
Seriously, it's the stuff that Whovian dreams are made of.
In the not too distant future, seven Doctors – Peter Davison, Colin Baker, Sylvester McCoy, Paul McGann, David Tennant, Matt Smith and Peter Capaldi – will be sitting down for a full English breakfast at The Wolseley in London, and there are four unreserved seats up for grabs…
Two of them will be claimed by the highest bidders, while the other two will be picked at random from a prize draw of ticket holders, for those of us who don't have a spare £10,000 (and then some!) lying around. A single ticket can be purchased now for £5, with multiple packages on offer to increase your odds. All of the money will go towards Comic Relief and its associated charities to help people who are living difficult lives across the UK and Africa.
Good luck to those who will be bidding, and may the odds be forever in your favour if you'll be entering the raffle. Red Nose Day is on Friday 24th March. Find out more about it, here.