Matt reacts to Steven's departure
Warning! This article and its comments may contain spoilers...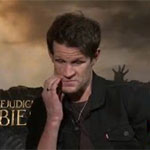 Matt Smith has shared his reaction to the news that Steven Moffat will be stepping down as Doctor Who's showrunner at the end of the next series.
The Eleventh Doctor actor helped Moffat to relaunch the show following the departure of David Tennant and Russell T Davies in 2009, and told The Anglophile Channel that he still feels "very privileged" to have been given such a once in a lifetime opportunity. "Steven pretty much is Doctor Who, so I'm sad he's leaving," he said. "He's done so much for the show, and for me, but it will always endure."
He continued: "There's a wonderful writer starting, and it's always been about reinvention."
Steven's last Christmas Special will air in December followed by Series 10 in spring 2017, after which Chris Chibnall will take over the reigns for Series 11, set to hit our screens in 2018. Read the full press release and share your own thoughts in our dedicated poll, here.
Matt is currently promoting his new film Pride and Prejudice and Zombies, in which he stars as Mr Collins, ahead of its international release into cinemas on 5th February 2016.