Arthur Darvill joins the cast of 'Doctor Faustus'
Warning! This article and its comments may contain spoilers...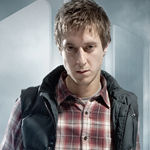 Arthur Darvill has signed up to play Mephistopheles in an upcoming production of Doctor Faustus.
The play tells the story of Doctor Faustus (Paul Hilton), who forsakes scholarship for magic and makes a pact with the Devil. If the evil spirit Mephistopheles will serve him for 24 years, Faustus will yield his soul to the Devil after death. It isn't long before Faustus has doubts about the bargain, but Mephistopheles has plenty of entertainment at hand to distract Faustus from the terrifying reality of his position…
It will run at Shakepeare's Globe from 23rd June (previews from 18th) to 2nd October.
We'd like to wish Arthur the very best of luck in his new role! Of course, with the play running until October and filming for this year's Christmas special expected to begin in July, the news also begs the question: will Rory the Roman be back for Series 7? Hmm…