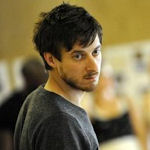 Arthur Darvill will be returning to the stage next month when he stars in a UK production of the acclaimed Broadway musical Honeymoon in Vegas.
The show will be performed at the London Palladium on 12th March 2017, with a fully orchestrated score provided by the London Musical Theatre Orchestra.
The Rory Williams actor will play Jack, alongside Samantha Barks as Betsy, in the story of a mild-mannered Brooklynite who avoids proposing to his girlfriend.
Tickets are on sale now. Let us know if you hope to attend in the comments section below!