Warning! This article and its comments may contain spoilers...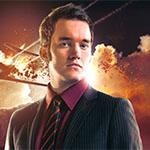 Christmas came early for Torchwood fans this weekend when it was announced that they'll finally be getting the fifth series they've been waiting for.
Well, sort of. Although Jack and Gwen will be reuniting for new adventures, they won't be making an actual televisual comeback just yet, as their return will be helmed by the audio awesomeness that is Big Finish Productions. Still, it's the first time we'll have canonically seen – erm, heard – them since Miracle Day, so it will still be pretty damn exciting to find out what they've been up to since their Stateside shenanigans.
And that's not all! Producer James Goss has teased that – as well as a brand spanking new team - Aliens Among Us will include "an appearance by someone who just has to be, has to be dead", which begs the question… who?! The show certainly boasts a back catalogue of deceased characters, so the possibilities are seemingly endless, but who would you like to see – again, make that hear – come back from the dead? Let us know in the comments!