Warning! This article and its comments may contain spoilers...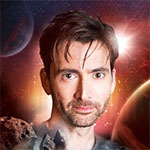 A new Doctor Who Magazine will materialise in shops this week and its cover star is none other than David Tennant, who you may know as the Tenth Doctor.
This issue, the actor talks exclusively about revising his iconic role once again for Big Finish's forthcoming Tenth Doctor Adventures, alongside Billie Piper and Camille Coduri as Rose and Jackie Tyler, who are both also interviewed inside. The original audios will be released next month.
Plus, the latest news, competitions, reviews and more!
DWM Issue 518 is released on Thursday 19th October, at the usual price of £5.99.
Browse the latest Doctor Who products on sale now in our merchandise section…