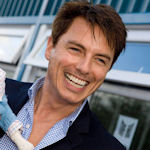 John Barrowman has revealed he's "absolutely proud" of the role model status that Captain Jack has achieved.
The actor's told Radio Times that his Doctor Who alter ago helped to break barriers for the series when he became the first male character to kiss the Doctor on screen.
"It is great to be a hero who doesn't care who he kisses," he explained. "It blew over everyone's head. It wasn't until five episodes later that everybody went 'Oh my God!'"
He continued: "There's young teens in school being bullied because of the sexuality they are just discovering. They write to me all the time to say Captain Jack's helped them be strong and more positive about themselves, rather than hiding and being embarrassed."
And with the future of Jack's spin off series Torchwood "in limbo" the star confirmed he would always be willing to reprise the role in the main series. "I was disappointed to not be asked back for the 50th," he admitted. "But things have to move on. It is going to be a great anniversary show and I'll be watching like everybody else. Whether Jack returns in the future is up to the producers. Doctor Who changed my life, so of course I'd do it."
Would you like to see Jack back with the Doctor? Have your say in the comments below!