Warning! This article and its comments may contain spoilers...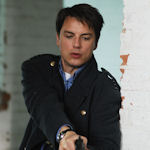 John Barrowman has revealed that he hopes to return to his most famous role as he thinks "there's a lot more to tell".
The actor's told NerdB*stards that there will always be life left in Jack Harkness (and not just because he is immortal!), despite the fact he hasn't been seen on screen since the last series of Torchwood, Miracle Day, back in 2011.
"It's not my decision, it's a decision for the BBC," he said. "I go to conventions and see the huge following we have."
He continued: "There's still a real hunger for Torchwood and there's a lot more out there too. There are those missing years that Jack talked about and how he becomes the Face of Boe. But it's never up to me. It is up to Russell T Davies, Julie Gardner and the BBC."
And like the rest of us, John is extremely excited to see the TARDIS adventures of Peter Capaldi who he has previously worked alongside on Torchwood: Children of Earth. "I think Peter's a brilliant actor," John affirmed. "It's a very interesting step to have taken."
Would you like to see a comeback for the Captain!? Let us know in the comment below…