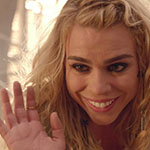 Rose Tyler has reigned supreme in an online popularilty poll to determine the greatest Doctor Who companion of all time.
The shop girl turned Earth defender – who travelled with the Ninth and Tenth Doctors – was portrayed by Billie Piper and made her most recent appearance in the 50th anniversary special, The Day of the Doctor, last November.
The survey was conducted by Radio Times and received over 2.3 million votes. The runner up was Jack Harkness, played by John Barrowman in the series and its spin off Torchwood.
Do you agree with the result? If not, who is your ultimate companion? Let us know below…