Warning! This article and its comments may contain spoilers...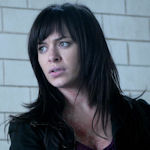 Great news for Torchwood fans – the show will be returning (sort of) in the form of "three or four" new radio plays, its leading man has confirmed!
John Barrowman, who plays the programme's protagonist Captain Jack Harkness, announced the news during a recent press conference for his latest project Arrow. "We're doing three or four radio plays for the BBC," he elaborated. "My sister and I are discussing the possibility of writing one of them and whether or not that leads to something new on TV, nobody knows. It's whether or not the BBC want to do it."
The Doctor Who spin off was last on our screens in 2011 but it's been "in limbo" since its ill-fated fourth series Miracle Day which was met with largely unfavourable reviews. Fans and critics alike panned the show for abandoning its Welsh roots by relocating to America.
Full details about the new radio plays are unknown but John did suggest they'll be a mix of "character based" stories and ones that "bring the team back together", though just which members of the 'team' he's referring to remains to be seen. Stick with us for all the latest!