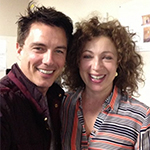 Two popular figures from the Doctor Who universes are celebrating their birthdays today.
John Barrowman, who plays Captain Jack Harkness in the main series and its spin off, Torchwood, turns 48 today, while Alex Kingston, known for her portrayal of River Song, is 52.
We hope they both have a great day and enjoy their respective celebrations. Leave your wishes for them in the comments section below. So… are we any closer to getting this Jack and River spin off?!