Warning! This article and its comments may contain spoilers...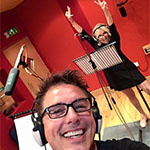 John Barrowman and Camille Coduri have been reunited in Cardiff this week at the recording session of a secret Doctor Who audio project.
Never one to opt against sharing a tantalising teaser or five, the Captain Jack actor has been keeping his Twitter followers up to date with the intriguing developments as he returned to Doctor Who's homeland (as promised!) to work on what we can assume is a new Big Finish adventure co-starring Jackie Tyler herself. And there's also been some exciting news for Torchwood fans, too.
On Wednesday he shared this pic of everybody's favourite tea boy turned Earth defender Gareth David-Lloyd, so it looks like there's plenty of Jack and Ianto action to come. Hurrah! Let's not forget that Big Finish recently had their license extended until 2025, so there are definitely good times ahead. Let us know what you think it all means in the comments!