Remember when… the Doctor met Sarah Jane?
Warning! This article and its comments may contain spoilers...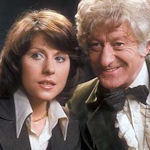 The TARDIS without the Doctor and a companion would feel as empty as Christmas without Santa. It's just plain wrong!
Like Santa the companion's objective is to deliver something special. For the audience they're the eyes and ears, bringing us even closer to the Doctor's weird and wonderful world.
Naturally some companions leave bigger marks on our lives than others. None of them have left a bigger mark than who today's discussion is dedicated to – Miss Sarah Jane Smith.
The Doctor first encountered Sarah Jane in the 1973 adventure, The Time Warrior. Then in his third incarnation, as portrayed by Jon Pertwee, it was clear from the start that he realised she was going to be much more than the TARDIS residents before her. Played by Elisabeth Sladen, the investigative journalist knew exactly what she wanted from life.
Her fiery personality and ever growing passion to delve deeper into the world around her meant she was always in the mood for a first class adventure. Sound like someone else we all know? You could say that she and the Doctor were a match made in heaven…

Above – The Third Doctor with his best friend, Sarah Jane Smith.
After infiltrating a top secret research facility (as you do…), Sarah Jane snuck aboard the TARDIS. Before she knew it, she found herself in the Middle Ages, where she helped in aiding the Doctor in a battle against the potato-headed Sontarans. The rest is history…
So, for this week's Remember when…, we are calling to mind the moment Sarah Jane first entered the Doctor's life. She went on to become such a huge part of Doctor Who – the fact she was given her own spin off in 2007 was testament to her contribution to the series. All tales start somewhere – share your own memories of how this one began.
Elisabeth passed away in 2011, but we'll always remember the companion who taught us that life on Planet Earth can be an adventure too, you just need to know where to look…